DROPCITY is a new centre for Architecture and Design.
Dropcity is a new centre for Architecture and Design that will be developed along Via Sammartini in Milan. Located inside the Magazzini Raccordati in the Central Station, this project is an initiative conceived by architect Andrea Caputo back in 2018 with the aim of establishing a place for people to meet and discuss architecture, design and the contemporary city. It is scheduled to open to the city, in spring 2024.
Developed thanks to Nhood and with the support of Grandi Stazioni Retail, Dropcity will create an urban model unseen before in Europe with over 10,000 square metres, divided across 28 tunnels, hosting: exhibition galleries, production workshops, carpentry, robotics and advanced prototyping laboratories. In addition, a large area will be dedicated to research, teaching and office space for industry professionals. A materials library and a public library, focusing on architecture and design topics, will complete the program.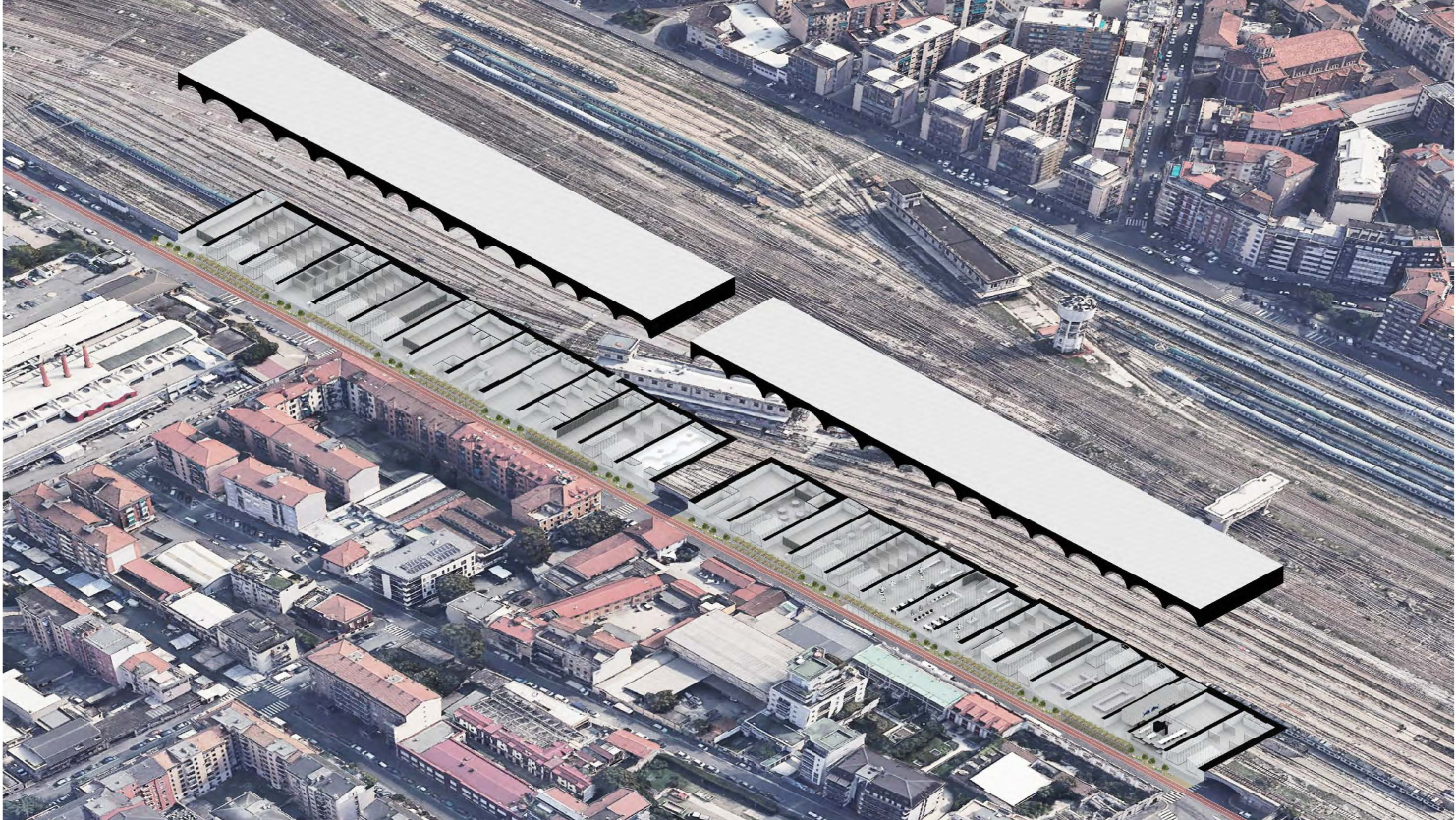 URBAN AND PROFESSIONAL CONTEXT
More than 12,000 architects practice their profession in Milan, a community of professionals and students - including more than 3,500 graduates and diploma holders per year - which, in relation to the number of inhabitants, demonstrates a unique territorial density. For decades, Milan has positioned itself as a global reference point for many reasons: from the recognition of excellent architects and architecture, to the contribution that magazines such as Domus, Lotus, and Abitare and others have brought to the international field, through to the prominence of the Salone del Mobile.
The creation of a centre for architecture stems from the desire to systemise this fertile ground with the potential of people, for a new neighbourhood model: a place dedicated to the culture of the project, creating opportunities for new generations of researchers, curators and designers. There will be spaces where free exhibition galleries are accessible to the community and a centre of production and creation where one can practice their profession, experiment with new technologies, thus deepening knowledge and strengthening contemporary discussions.
Dropcity intends to act as a platform for young professional categories in the investment phase that therefore require support. A principle that governs the design process of the initiative itself: coordinated by the Andrea Caputo Studio, emerging architects and designers are actively involved in the design of the open spaces, the layouts or entire spaces such as a library and materials library. This is a collective approach that aims to spread energy and diversity of languages for a place in continuous transformation.
---
MAGAZZINI RACCORDATI: HISTORY AND PROJECT
Abandoned for decades and covering an area of approximately 40,000 square metres, the Magazzini Raccordati in Milan are distributed along the axes of Via Aporti and Via Sammartini. Characterised by its arched spaces and façades with a high compositional value, the Magazzini Raccordati provide the ideal context for a community of professionals, interconnected and in direct relation with the street and the energy of the neighbourhood.
Dropcity* is located along via Sammartini, in a strategic position in relation to Piazzale Duca d'Aosta and the Martesana, extending and redeveloping a third of this route with a road conversion project that envisages the reduction of vehicular traffic, a new cycle path between Centrale and Martesana, and a repaved area that will be redesigned as a permeable surface rich in vegetation. A new concept of public space, overlooking the arcades of the Raccordati.
*Dropcity, a name inspired by the first American community utopias, envisages the restoration of more than 400 metres of façades by restoring the stone sections and reconstructing the original facades in coordination with the supervision of cultural heritage.
---
DROPCITY, PROGRAMME AND SPACES
A CIVIC LIBRARY OF ARCHITECTURE AND DESIGN
Dropcity envisions an archive and reference library of materials and specialised publishing, accessible to the entire city with a book consultation services, reading room and a space for meetings with authors, specifically dedicated to the field of architecture and design. Collections of books on the subject will be available, as well as an entire series of trade magazines.
National publications included: Domus, Casabella, Lotus, Abitare, Zodiac, Ottagono, Modulo, L'edilizia Moderna, L'industria delle Costruzioni, L'Architettura, Parametro, Terrazzo and others.

International publications included: Architectural Review, Architectural Design, Quaderns, El Croquis, L'Architecture d'aujourd'hui, Bauen+Wohnen, A+J, Japan Architects, Architectural Record, C3, Frame, Log, Archis, Volume, Oase and others.
---
MATERIALS AND UPCYCLING
The materials library includes an educational archive of materials classified according to an environmental impact criteria. Exhibition and inventory spaces for organic-only samples or composites, obtained through various forms and methods of recycling from derivatives of polymers, cellulose or other components. The database will cover materials relevant to the construction industry: buildings, interior & exterior finishes and furniture.
The inventory of materials, organised according to the environmental impact criteria follows the principles of upcycling that Dropcity intends to adopt for the management of resources and production initiatives: in parallel with the purchase of machinery, suitable for recycling any category of materials, Dropcity presents itself as a collection point for the city's waste with a focus on reuse and re-processing.
---
FROM CRAFT WORKSHOPS TO ADVANCED PROTOTYPING
Dropcity will host advanced prototyping workshops for the development of manufacturing artefacts through the use of multiple types of innovative machinery, organic composition materials and three-dimensional printing tools. These spaces will be accessible to anyone interested in developing prototypes on multiple scales: from entire parts of building elements (façades, fixtures, structural nodes) to samples of furnishing accessories and moulds for industrial products.
The workshop will be equipped with robots for complex processes. There will be workshops equipped with 3D scanners for the registration of morphologically complex surfaces, technical assistance for conversion into data clouds by means of specific software, and areas for advanced modelling related to the discipline of architecture and design for the production of models on small or realistic scales through the use of state-of-the-art 3D printers. There will also be areas equipped with traditional machinery and hardware: hot wire machine, milling bench, lasercut, CNC, edging machines and hand tools. The laboratories will have numerous workstations with workbenches and workshops for the construction, assembly and testing of materials, products, portions of building parts, furniture, as well as photo studios and audio and video recording rooms.
---
FREE EXHIBITION SPACES
Spaces for exhibiting content in the fields of architecture, urban planning, landscaping and environmental issues are all included in the project. There will be free access areas to showcase research and initiatives within the district or associated with the local, national and international university network.
The possibility of exhibiting independent projects is in response to the urgent need to offer spaces that are free of charge, in an urban context that is today characterised by restrictive economic circumstances . In Dropcity, the Milanese concept of 'location' is translated into the possibility of obtaining suitable and equipped surfaces free of charge.
---
A NEW OFFICE MODEL
Dropcity will house more than 400 office workstations with ergonomic seating, large desks and large-format monitors. This is an unprecedented formula that intends to evolve the workstation concept in favour of a category - that of designers - which is difficult to fit with the co-working models currently available in the city. Each office area is located near a draft-room, meeting-room, areas equipped with lockers and services capable of meeting any need. There will also be catering facilities (restaurants), printing services, showrooms and retailers for consumables. The proximity to the library, materials library and, above all, the laboratories and workshop areas makes it possible to fulfill a designers' activities with a highly integrated program. The exhibition spaces and the many initiatives aimed at contemporary architectural discussions constitute substantial added value in the work areas, organised according to a principle of maximum flexibility and diversity of spaces: hot-desks, private offices, open-spaces and experimental typologies.
The concentration of these services and energy in a confined urban area represents the economic and cultural value of the initiative: the presence of resources, equipment and spaces inherent to related professions will constitute an epicenter capable of producing a constant exchange of information and know-how of high professional value, from which the entire Sammartini district will benefit, thus reverberating its effects on a broad scale throughout the entire city.

CONVENTION 23
15-23rd APRIL 2023
Via Sammartini
38-60, Milano
From 15th to 23rd April, Dropcity Convention 2023, the winning project of the public call "Festival Architettura - 2nd edition", promoted by the Directorate General of Contemporary Creativity of the Italian Ministry of Culture, opens to the city. During this period, inside the Magazzini Raccordati in the Central Station, Dropcity Centro di Architettura e Design, conceived by architect Andrea Caputo and developed thanks to Nhood, produces and hosts a busy schedule of exhibitions, installations, conferences and talks with the participation of international architects and designers. If the 2022 preview unveiled the tunnels and the project, describing its objectives and the process of reclaiming the spaces and the surrounding urban environment, during Design Week Dropcity Convention 2023 offers a foretaste of the scope regarding the cultural apparatus that will be produced by the Centre for Architecture and Design in its final form in 2024: a place not only dedicated to the culture of design, experimentation of new technologies, didactics, debate, but above all a centre for the production of research projects that flow into exhibitions and previews of their international scope, especially commissioned for Dropcity but destined to cross boundaries.

---
15TH-22ND OF APRIL
ON PUBLIC AGENCY
Dropcity aims to be a platform for open and public exchange, exhibitions, and dialogue to enhance the culture of Architecture and Design. The Dropcity spring lecture series 2023, On Public Agency, during the Salone di Mobile, is rooted in the discipline of Architecture and voices from practitioners in Architecture. What does it mean to be an architect today? And what is at stake? What does contemporary Architecture entail? What are the modes of sharing and collaborations needed to (re)gain agency?

The line-up is simple, exciting and straightforward as our tunnels. Every evening from the 15 th of April till the 22 nd , we have lectures by international practitioners and respondents from young architecture offices based in Italy. The objective is to promote a creative and productive discussion about current work and speculate about the future of practices.

The urban development of cities is closely related to the infrastructures of the train. The site of Dropcity is located in a former brownfield area. Adaptive re-use of these former train infrastructures integrated in the urban fabric makes the site ideal for a mix-used development. The end of the lecture series is marked by the announcement of the winners of the competition on the re-use of the tunnels and a specialized lecture on the re-development on train station areas.
Curated by Anneke Abhelakh
---
15th of April Auditorium tunnel 60
Talks
6PM
Christian Kerez, Francesca Gagliardi FONDAMENTA
---
16th of April Tunnel 142
Talks
4-6 PM
Aspen, The Italian Manifesto by Francesca Picchi and moderated by Michele Lupi with the participation of Alberto Alessi, Elena Dellapiana, Francesco Dondina, Antonio Colombo, Fulvio Irace, Andrea Zagato, Alberto Saibene, Giovanna Castiglioni, Giulio Iacchetti, Chiara Rodriquez, Franco Raggi, Antonio Macchi Cassia, Giovanni Cutolo, Rita Airaghi, Enrico Morteo
Auditorium tunnel 60
Talks
6 PM
Mireia Luzárraga TAKK, Florian Idenburg SO-IL, Benjamin Gallegos Gabilondo SUPERVOID
---
17th of April Auditorium tunnel 60
Talks
1 — 2 PM
Skwat & KIBE on reuse moderated by Andrea Crudeli - University of Pisa
7 PM
Jeannette Kuo KARAMUK KUO, OFFICE Kersten Geers David Van Severen, Guido Tesio GANKO
---
18th of April Auditorium tunnel 60
Talks
1 — 2 PM
Europelago by Luigi Savio Mattia Inselvini and Davide Masserini with the participation of Comte Meuwly (Adrien Meuwly), Captcha architecture (Margherita Marri), Tableau (Boris Peianov), Zarcola (Edoardo giancola, Federico Zarattini), Zattere (Giuseppe greppi), Parabase (Pablo Garrido Arnaiz)
7 PM
Minsuk Cho MASS STUDIES, Sandy Attia MODUS , Luigi Savio (AB)NORMAL
---
19th of April Auditorium tunnel 60
Talks
7 PM
Amélia Brandão Costa and Rodrigo da Costa Lima PORTO ACADEMY, Giovanni Piovene and Ambra Fabi PIOVENEFABI
---
20th of April Auditorium tunnel 60
Talks
1 - 2 PM
Viasaterna Arte Contemporanea with Gaia Cambiaggi, Benedetta Pomini e Giulia Ticozzi
7 PM
Anna Puigjaner MAIO, Simona Malvezzi KUEHN MALVEZZI, Alessandro Bava BB
---
21st of April Auditorium tunnel 60
Talks
7 PM
Reinier de Graaf OMA, Luigi Alberto Cippini ARMATURE GLOBALE
---
22nd of April Auditorium tunnel 60
Talks
From 3 PM
Tunnel Evangelion judging panel will debate on the selected 10 finalists
---
PROJECTS SUPPORTED BY DROPCITY
15th-22nd of April
tunnel 142
ASPEN, THE ITALIAN MANIFESTO
curated by Francesca Picchi and designed by Studio Ossidiana
tunnel 52+54
ARRIGO ARRIGHETTI. A PUBLIC ARCHITECT by Salvatore Porcaro (curator), Pino Musi (photographer), HPO (architects)
by Salvatore Porcaro (curator), Pino Musi (photographer), HPO (architects)
tunnel 60
TUNNEL EVANGELION
by Simon Bouldvin, Piovenefabi, Onsitestudio
---
Exhibitions
15th-23rd of April
tunnel 46
PREPPER'S PANTRY: OBJECTS THAT SAVE LIVES
by Anniina Koivu, curatorial assistant by Lukas Lüttgen, installation design by Camille Blin, Anthony Guex, Christian Spiess and graphic design by Frederik Mahler-Andersen
designed and developed by oio (Simone Rebaudengo, Matteo Loglio)
tunnel 56
HACKABILITY OF THE STOOL
by Daisuke Motogi /DDAA LAB
by Jorge Penadés and Matylda Krzykowski
tunnel 44
RE;COLLECTIVE MILAN
by Eunha Kim, Hyesun Lee, Jinyoung Neon, HYESUN LEE, Jo Nagasaki & Naritake Fukumoto, KUO DUO, MULTISTANDARS, Nuri Neon, Kwangho Lee, PINWU Design Studio, RE;CODE, RoarcRenew Architects
tunnel 140
THE THINKING PIECE / OBSCURE SOLUTIONS
by WE+, Takt Project, Sae Honda, Satomi Minoshima, Takuto Ohta with Takahiro Tsuchida, Junya Maejima
tunnel 50
FROM STANDARDS TO NEW STANDARDS: THE COLOURS OF GIULIO RIDOLFO
WHY SHOULD WE CARE ABOUT AN ARCHIVE? AROUND MILAN UNIT BY RAMAK FAZEL
by Viasaterna Arte Contemporanea with Gaia Cambiaggi, Benedetta Pomini, Delfino Sisto Legnani
---
Installations
15th-23rd of April
tunnel 50
FLOW – FLUID MATERIAL CYCLE
by Daisuke Yamamoto Design Studio with Taketo Masui
tunnel 42
CARS AND THE PUBLIC JOY
by Ir. Francesca Crotti, Ir. Thomas Ibrahim with Daria Kravchuk (Curator)
---
pubblications
15th-23rd of April
with the partecipation of Humboldt, Lotto StudioxU-Joints, NERO, Quodlibet