DROPCITY is a new centre for Architecture and Design.
Dropcity is a new centre for Architecture and Design that will be developed along Via Sammartini in Milan. Located inside the Magazzini Raccordati in the Central Station, this project is an initiative conceived by architect Andrea Caputo back in 2018 with the aim of establishing a place for people to meet and discuss architecture, design and the contemporary city. It is scheduled to open to the city, in spring 2024.
Developed thanks to Nhood and with the support of Grandi Stazioni Retail, Dropcity will create an urban model unseen before in Europe with over 10,000 square metres, divided across 28 tunnels, hosting: exhibition galleries, production workshops, carpentry, robotics and advanced prototyping laboratories. In addition, a large area will be dedicated to research, teaching and office space for industry professionals. A materials library and a public library, focusing on architecture and design topics, will complete the program.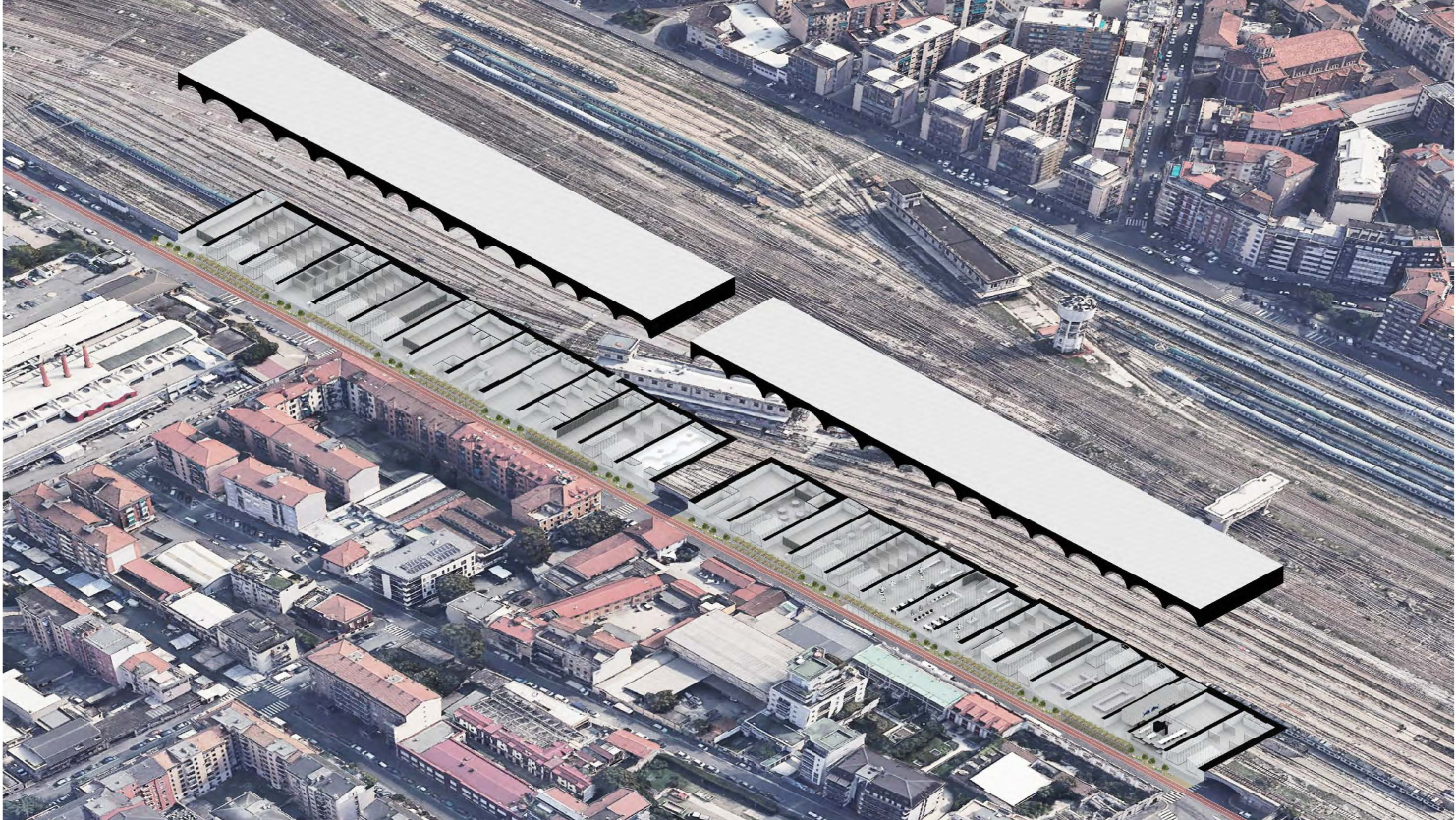 URBAN AND PROFESSIONAL CONTEXT
More than 12,000 architects practice their profession in Milan, a community of professionals and students - including more than 3,500 graduates and diploma holders per year - which, in relation to the number of inhabitants, demonstrates a unique territorial density. For decades, Milan has positioned itself as a global reference point for many reasons: from the recognition of excellent architects and architecture, to the contribution that magazines such as Domus, Lotus, and Abitare and others have brought to the international field, through to the prominence of the Salone del Mobile.
The creation of a centre for architecture stems from the desire to systemise this fertile ground with the potential of people, for a new neighbourhood model: a place dedicated to the culture of the project, creating opportunities for new generations of researchers, curators and designers. There will be spaces where free exhibition galleries are accessible to the community and a centre of production and creation where one can practice their profession, experiment with new technologies, thus deepening knowledge and strengthening contemporary discussions.
Dropcity intends to act as a platform for young professional categories in the investment phase that therefore require support. A principle that governs the design process of the initiative itself: coordinated by the Andrea Caputo Studio, emerging architects and designers are actively involved in the design of the open spaces, the layouts or entire spaces such as a library and materials library. This is a collective approach that aims to spread energy and diversity of languages for a place in continuous transformation.
---
MAGAZZINI RACCORDATI: HISTORY AND PROJECT
Abandoned for decades and covering an area of approximately 40,000 square metres, the Magazzini Raccordati in Milan are distributed along the axes of Via Aporti and Via Sammartini. Characterised by its arched spaces and façades with a high compositional value, the Magazzini Raccordati provide the ideal context for a community of professionals, interconnected and in direct relation with the street and the energy of the neighbourhood.
Dropcity* is located along via Sammartini, in a strategic position in relation to Piazzale Duca d'Aosta and the Martesana, extending and redeveloping a third of this route with a road conversion project that envisages the reduction of vehicular traffic, a new cycle path between Centrale and Martesana, and a repaved area that will be redesigned as a permeable surface rich in vegetation. A new concept of public space, overlooking the arcades of the Raccordati.
*Dropcity, a name inspired by the first American community utopias, envisages the restoration of more than 400 metres of façades by restoring the stone sections and reconstructing the original facades in coordination with the supervision of cultural heritage.
---
DROPCITY, PROGRAMME AND SPACES
A CIVIC LIBRARY OF ARCHITECTURE AND DESIGN
Dropcity envisions an archive and reference library of materials and specialised publishing, accessible to the entire city with a book consultation services, reading room and a space for meetings with authors, specifically dedicated to the field of architecture and design. Collections of books on the subject will be available, as well as an entire series of trade magazines.
National publications included: Domus, Casabella, Lotus, Abitare, Zodiac, Ottagono, Modulo, L'edilizia Moderna, L'industria delle Costruzioni, L'Architettura, Parametro, Terrazzo and others.

International publications included: Architectural Review, Architectural Design, Quaderns, El Croquis, L'Architecture d'aujourd'hui, Bauen+Wohnen, A+J, Japan Architects, Architectural Record, C3, Frame, Log, Archis, Volume, Oase and others.
---
MATERIALS AND UPCYCLING
The materials library includes an educational archive of materials classified according to an environmental impact criteria. Exhibition and inventory spaces for organic-only samples or composites, obtained through various forms and methods of recycling from derivatives of polymers, cellulose or other components. The database will cover materials relevant to the construction industry: buildings, interior & exterior finishes and furniture.
The inventory of materials, organised according to the environmental impact criteria follows the principles of upcycling that Dropcity intends to adopt for the management of resources and production initiatives: in parallel with the purchase of machinery, suitable for recycling any category of materials, Dropcity presents itself as a collection point for the city's waste with a focus on reuse and re-processing.
---
FROM CRAFT WORKSHOPS TO ADVANCED PROTOTYPING
Dropcity will host advanced prototyping workshops for the development of manufacturing artefacts through the use of multiple types of innovative machinery, organic composition materials and three-dimensional printing tools. These spaces will be accessible to anyone interested in developing prototypes on multiple scales: from entire parts of building elements (façades, fixtures, structural nodes) to samples of furnishing accessories and moulds for industrial products.
The workshop will be equipped with robots for complex processes. There will be workshops equipped with 3D scanners for the registration of morphologically complex surfaces, technical assistance for conversion into data clouds by means of specific software, and areas for advanced modelling related to the discipline of architecture and design for the production of models on small or realistic scales through the use of state-of-the-art 3D printers. There will also be areas equipped with traditional machinery and hardware: hot wire machine, milling bench, lasercut, CNC, edging machines and hand tools. The laboratories will have numerous workstations with workbenches and workshops for the construction, assembly and testing of materials, products, portions of building parts, furniture, as well as photo studios and audio and video recording rooms.
---
FREE EXHIBITION SPACES
Spaces for exhibiting content in the fields of architecture, urban planning, landscaping and environmental issues are all included in the project. There will be free access areas to showcase research and initiatives within the district or associated with the local, national and international university network.
The possibility of exhibiting independent projects is in response to the urgent need to offer spaces that are free of charge, in an urban context that is today characterised by restrictive economic circumstances . In Dropcity, the Milanese concept of 'location' is translated into the possibility of obtaining suitable and equipped surfaces free of charge.
---
A NEW OFFICE MODEL
Dropcity will house more than 400 office workstations with ergonomic seating, large desks and large-format monitors. This is an unprecedented formula that intends to evolve the workstation concept in favour of a category - that of designers - which is difficult to fit with the co-working models currently available in the city. Each office area is located near a draft-room, meeting-room, areas equipped with lockers and services capable of meeting any need. There will also be catering facilities (restaurants), printing services, showrooms and retailers for consumables. The proximity to the library, materials library and, above all, the laboratories and workshop areas makes it possible to fulfill a designers' activities with a highly integrated program. The exhibition spaces and the many initiatives aimed at contemporary architectural discussions constitute substantial added value in the work areas, organised according to a principle of maximum flexibility and diversity of spaces: hot-desks, private offices, open-spaces and experimental typologies.
The concentration of these services and energy in a confined urban area represents the economic and cultural value of the initiative: the presence of resources, equipment and spaces inherent to related professions will constitute an epicenter capable of producing a constant exchange of information and know-how of high professional value, from which the entire Sammartini district will benefit, thus reverberating its effects on a broad scale throughout the entire city.

PUBLIC PROGRAM
7-12th JUNE 2022
Via Sammartini
38-60, Milano
During the Salone del Mobile Dropcity's future spaces will be activated by installations, workshops, talks and book launches. Under the title Dropcity Mockups, the public program curated by Angela Rui with Anna Paola Buonanno has invited thinkers, publishers, authors, architects and designers to gather together and imagine what kind of cultural prototype the center will embody. The conceptual framework of the mock-up therefore does not refer exclusively to the future architectural construction of an urban centre dedicated to architecture and design, but also includes a prior reflection on the social, professional and cultural model that Dropcity represents: especially in the Italian context and in its inclusion in the city of Milan. By raising current issues related to the profession, as well as the social and cultural impact of places of production and representation, the week itself will become the mock-up of the spirit and creative climate that will characterize Dropcity. Through this programme, Dropcity aims to reach students and young architects and designers in Milan during the design week, inviting them to build spaces for dialogue, solidarity and community to face the challenges and responsibilities that await designers and institutions operating in the field of architecture and design.

---
TUE JUNE 7
DropCity Mockups: What Space is Still the Place?
After the advent of smart working, remote education and virtual calls, is space still capable of embodying the notion of place? Featuring Andrea Caputo, Beatrice Galilee and Jimenez Lai, the session moderated by David Plaisant explores ideas about how a center for architecture and design can become a pivot of urban creative aggregation, and how the production of space, whether physical or digital, can create the context for a multifaceted debate in which forces characterized by ongoing social and design dynamics converge: such as those related to a new perception of a working space.
In conversation with Parasite 2.0 and From outer Space, Davide Fabio Colaci explores the design dimension of mise en scene as an imaginative and regenerative possibility for the construction of new design codes.
Auditorium tunnel 60
Talks
9 — 11 AM
9 — 10.20 AM
Andrea Caputo, Beatrice Galilee and Jimenez Lai, moderated by David Plaisant (ENG)
10.20 — 11 AM
Parasite 2.0 and From outer Space, moderated by Davide Fabio Colaci
Tunnel 50
Workshop
4 — 6 PM
Secrets to sell your design services
Ginevra Petrozzi & Ines Borovac
Footwear Interviews
Isa Matilde Bonino (all day)
[ when not to design ]
Eleonora Toniolo
Auditorium tunnel 60
Book Launch
3.30 — 7 PM
3.30 — 4.20 PM
KoozArch
Federica Sofia Zambeletti in conversation with (ab)Normal, Alvar Aaltissimo and UNLESS
4.30 — 5.10 PM
U-Joints. A Taxonomy of Connections
Anniina Koivu, Andrea Caputo
5.15 — 6PM
Sam Chermayeff: Beasts
(Apartamento Publishing S.L.) auth: Sam Chermayeff, moderated by Chiara Siravo (ENG)
6.15 — 7PM
Log53: Why Italy now?
Supervoid, Manuel Orazi, Davide Spina, moderated by Andrea Bentivegna
---
WED JUNE 8
DropCity Mockups: POST-EXHAUSTION: A FIELD OF CREATIVITY
This session aims to spark a debate regarding wider questions of burn-outs and productivity, in relation to the human body and the planet, finding common patterns between the exhaustion of humans and their environment. With the participation of Brendan Cormier, Matylda Krzykowski, James Taylor Foster, the conversation moderated by Guus Beumer looks at distopias and the actual state of global exhaustion as a fertile ground where design invents new codes related to the implementation of energy solutions in architecture and design, as well as the new role of cultural spaces as sites of physical reconnection between bodies.
Featuring Fosbury and Francesca Tambussi (Hyperburgers), the discussion will shift to the possibility of producing places capable of accommodating new individual and social needs in ascertaining the vulnerability of the individual and the community in the current epoch.
Auditorium tunnel 60
Talks
9 — 11 AM
9 — 10.20 AM
Matylda Krzykowski, Brendan Cormier and James Taylor Foster, moderated by Guus Beumer (ENG)
10.20 — 11 AM
Fosbury & Francesca Tambussi (Hyperbergers), moderated by Angela Rui
tunnel 50
Workshop
4 — 6 PM
Present by Nature
by Matilde Patuelli & Roberta di Cosmo
Footwear Interviews
(all day) by Isa Matilde Bonino
[ arranging conversations ]
by Eleonora Toniolo
Auditorium tunnel 60
Book Launch
4.30 — 7 PM
4 - 4.40PM
Contro l'oggetto. Conversazioni sul design (Quodlibet Edizioni)
Emanuele Quinz, in conversation with Martino Gamper, moderated by Angela Rui
5.30 - 6.10PM
Urbano Magazine. La rivista di cultura dell'urbanistica (Borio Mangiarotti)
Serena Scarpello in conversation with Alessandro Benetti and Claudia Mainardi (Fosbury Architecture)
6.20 - 7PM
Tutto tutto tutto o quasi (Quodlibet Edizioni)
Gianni Pettena, in conversation with Alberto Salvadori, moderated by Manuel Orazi
---
THU JUNE 9
DropCity Mockups: A WORLD OF MANY WORLDS
This session proposes design practices beyond the centrality of the human subject and invites us to imagine networks of ethics and responsibility emerging from the vibrancy of complex systems and metabolic processes in design thinking, processes and methodologies. Featuring Finemateria, Alessandro Mason (Studio GISTO) and Benedetta Pompili, this discourse moderated by Anna Paola Buonanno focuses on resources, extractions and regenerative practises related to matter, exploring the dimension of more-than-humans in design and curatorial thinking through the words of Studio Ossidiana and Domitilla Dardi, guided by Emilia Giorgi. Through the contribution of Beatrice Leanza and Aric Chen, in conversation with Martina Muzi, the discussion tackles these questions at the level of cultural institutions that today have become an archipelago of representation to foster new forms of solidarity and justice.
Auditorium tunnel 60
Talks
9 — 11 AM
9 — 9.40 AM
Finemateria, Alessandro Mason (Studio GISTO) and Benedetta Pompili, moderated by Anna Paola Buonanno
9.40 — 10.20 AM
Domitilla Dardi and Studio Ossidiana, moderated by Emilia Giorgi
10.20 — 11 AM
Beatrice Leanza and Aric Chen, moderated by Martina Muzi (ENG)
tunnel 50
Workshop
4 — 6 PM
Clay Dialogues: Sustainable Ceramic Practices
by Benedetta Pompili
Footwear Interviews
Isa Matilde Bonino (all day)
Frantoio Sociale
Studio GISTO + Hund design in collaborazione con Crunchy Crusher (all day)
Auditorium tunnel 60
Book Launch
4.30 — 7 PM
4.30 — 5.10 PM
Studio Formafantasma. Il design degli iperoggetti
(Postmedia Books) auth: Marco Petroni with Martina Muzi and Giovanni Innella
5.20 — 6 PM
Playgrounding. Il playground come forma simbolica della società e della cultura progettuale (Corraini Edizioni)
Domitilla Dardi, Gianluca Malgeri and Pietro Corraini, moderated by Angela Rui
6.15 — 7 PM
City Lust. London Guangzhou Lagos Dubai Houston (​​Scheidegger & Spiess)
Charlie Koolhaas with Manuel Orazi, moderated by Luca Galofaro (ENG)
---
FRI JUNE 10
DropCity Mockups: VIBRANT MATTER / VIBRANT BODIES
As Jane Bennett points out, we are materiality, and materiality is vibrant and full of vitality. When humans act, they do not exclusively exercise human capacities, but express and involve a variety of other processes that produce assemblages and networks of co-creation.
Whether they are the result of the design of machines, intelligence, communities or residual spaces, these new assemblages are agents of activation between bodies: bodies that can be geological, synthetic, animal or artificial. Led by Emilia Giorgi, (ab)Normal and Matilde Cassani will introduce their work as a form of collective activation that creates new social connections, while materiality is experienced as generative potential in its transformation into sound, sensorium and infrastructure in the work of HPO, Rashid Uri, Ganko, which will be discussed with Elisabetta Donati de Conti. The session concludes around the theme of two singular and radical educational experiences, those of INResidence (Barbara Brondi, Marco Rainò) and Waterschool (Rianne Makkink), who centralise practices of collective involvement: finding, in listening to lateral phenomena and eloquent materiality, a powerful formula of mutual co-creation. In conversation with Matteo Pirola and Angela Rui.
Auditorium tunnel 60
Talks
9 — 11 AM
9 — 9.40 AM
(ab)Normal, One Block Down & Matilde Cassani moderated by Emilia Giorgi
9.40 — 10.20 AM
Rashid Uri, HPO and Ganko moderated by Elisabetta Donati de Conti
10.20 — 11 AM
Waterschool (Rianne Makkink), IN Residence (Barbara Brondi, Marco Rainò), Matilde Patuelli, Roberta Di Cosmo moderated by Matteo Pirola and Angela Rui (ENG)
tunnel 50
Workshop
4 — 6 PM
Clay Dialogues: Sustainable Ceramic Practices
Benedetta Pompili
Footwear Interviews
Isa Matilde Bonino (all day)
Secrets to sell your design services
Ginevra Petrozzi and Ines Borovac
Auditorium tunnel 60
Book Launch
5.30 — 7 PM
5.30 — 6.10 PM
Project Without Form. OMA, Rem Koolhaas and the Laboratory of 1989
(Spector Books) Auth: Holger Schurk and GRILLOVASIU, moderated by Ekaterina Golovatyuk
6.20 — 7 PM
Black Med
(Humboldt Books) Auth: Invernomuto, with Giovanna Silva, Alexis Zavialoff, moderated by Luca Galofaro
The performance Black Med - Chapter VI will follow.
​​By Invernomuto, commissioned by TBA21–Academy | Ocean Space